New Worlds and Old
(click for podcast)
An amazing book:

A mysterious figure, virtually unknown even in his own country, Sergei Pavlovich Korolev masterminded not only the historic launch of Sputnik and the first intercontinental ballistic missile, but Yuri Gagarin's epochal space flight, and, ultimately, the Soviet attempt to beat America to the moon. Who was Korolev? Where did he come from? Why is so little known about him?
This is a great entry into the world of the Soviet space program, a fascinating history and an amazing man - recommended!
While it is common to consider the "Space Race" in terms of "US won, USSR lost," The Soviet space program was filled with triumphs. I think my favorite is their exploration of Venus -
Read about it HERE:
http://mentallandscape.com/V_Venus.htm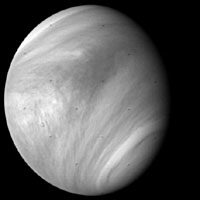 Launches To Venus

http://www.worldwindcentral.com/wiki/Venus


NASA's free WorldWind program lets you expore Venus!
http://www.worldwindcentral.com/wiki/Venus
http://www.worldwindcentral.com/wiki/NASA_World_Wind_Download
To learn more about the Russian/Soviet Space program - past and future, visit this excellent site:
http://russianspaceweb.com/
If you'd like to build your own "table of languages," or "translator" take a look at this page for material in many many languages:
http://www.elite.net/~runner/jennifers/
Jennifer's Language Page!
Music: Russian kamarinskaja